Grand Bleu Gamin Japanese famous villa in Miyakojima

English
Make Your Own Journey
Instead of going on a meticulously planned trip, travel wherever takes your fancy.
Embark on a journey of freedom.
To a special place beyond luxury.
Miyako-jima, located approximately 300 km southwest of Okinawa Island, and boasting some of the clearest, bluest oceans of all the islands, never ceases to hold visitors spellbound.
The luxury private villa "Grand Bleu Gamin" is located about 15 minutes by car from Miyako Airport. The villa accommodates only 5 parties per day. All rooms are equipped with a private pool and designed without steps or differences in floor heights. The utmost consideration has been given to providing a comfortable and liberating environment.
The villa offers a restaurant and bar which serves French cuisine prepared with local ingredients, and a spa.
Enjoy a luxurious trip that is solely about comfort and relaxation. Forget about the hustle and bustle of daily life, give in to the slow rhythms of island life, and relax completely.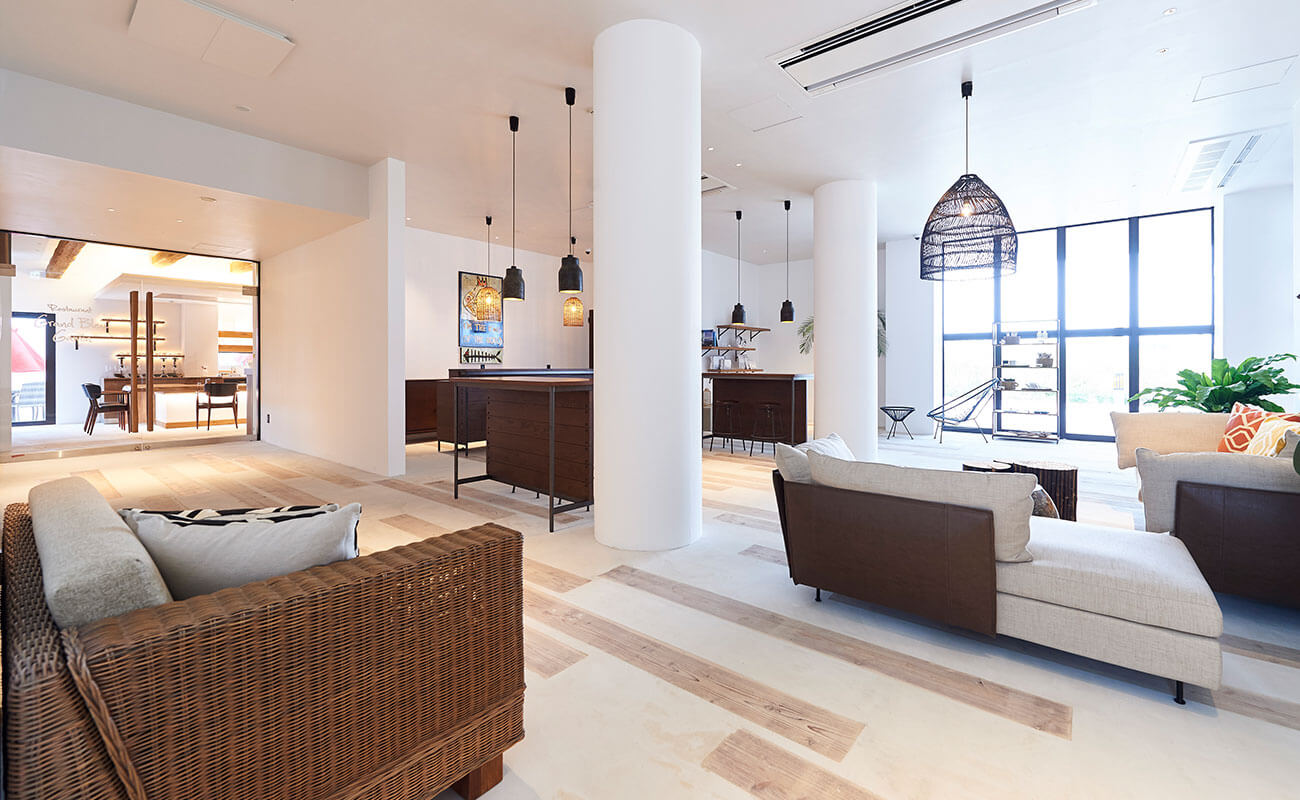 Savor exquisite French cuisine.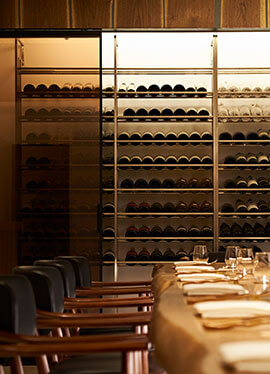 Enjoy teppanyaki-grilled full-course French cuisine at our restaurant. Bask in the deliciously refined French flavors that only a restaurant operated by the GAMIN Group of Tokyo can offer, here in Miyako-jima.
Indulge in a deep, relaxing sleep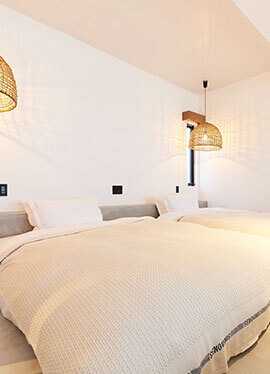 Enjoy a deep, high-quality sleep, and awaken feeling refreshed and reborn. We provide our guests with the best linens, bedding, and sleepwear, for the highest-quality and most comfortable sleep experience.
A deluxe, private environment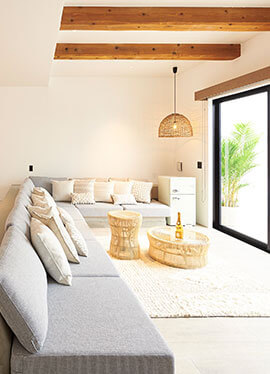 We can offer the "out-of-the-ordinary experience" of a luxury hotel, and the "soothing relaxation" that only a private villa can provide. Here, we offer the best of both worlds for the ultimate luxury experience.
Our guest rooms
We have 5 guest rooms and 3 types of room.
Our villa has 5 guest rooms over 2 floors. There are 3 types of room, but each is designed without steps or differences in floor height for an open feel and comes with its own private pool so you can swim whenever you like.
Room type A

Room type A

Room type B

Room type B

Room type C

Room type C
Room type ASuperior Suite
We have 2 superior suites, recommended for parties of 1 to 2 persons. Constructed in a spacious, fully-accessible layout, allowing complete freedom without any obstacles, with the bedroom, living room, and pool connected together in a seamless design.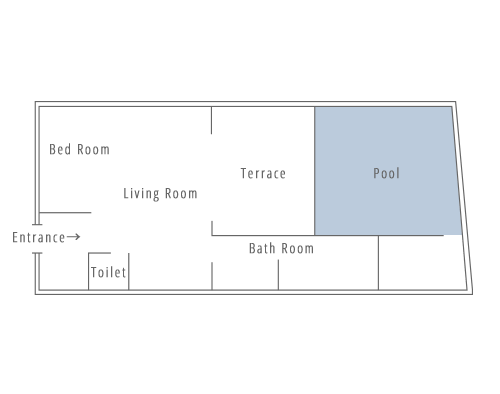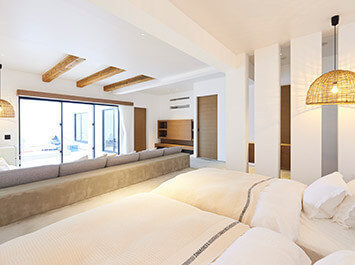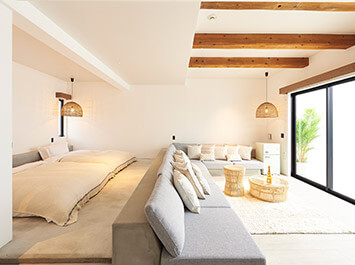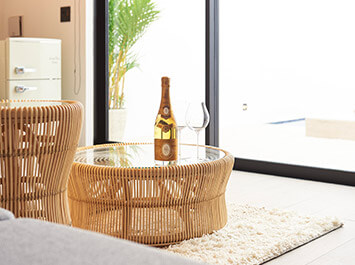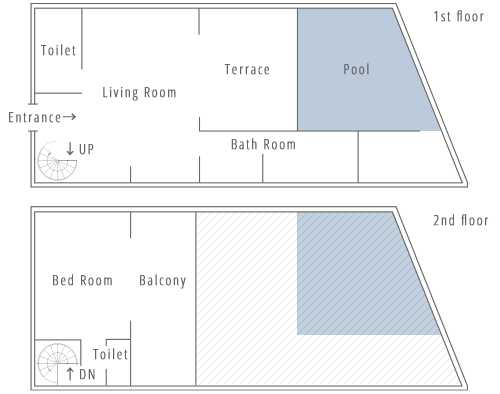 Room type BDeluxe Suite
Our deluxe suite is a duplex room with a separate living room and bedroom. We have 2 of these rooms available, recommended for parties of 1 to 2 persons. Guests can enjoy the southern breeze which blows across Miyako-jima from the 2nd-floor terrace.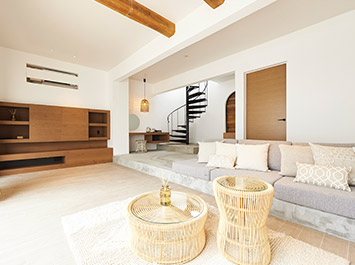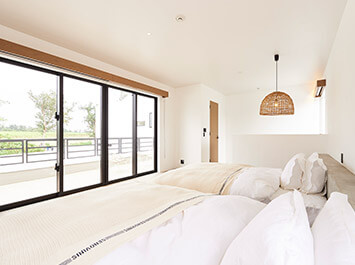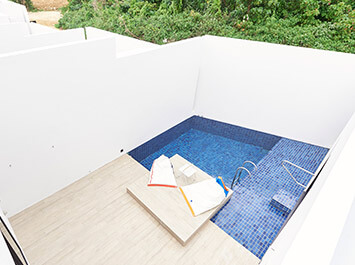 Room type CPremium Suite
A 3-room suite with 2 bedrooms and a separate living room. Enjoy the comfort of your own private pool, seamlessly connected with the living room. The premium suite is an expansive space, perfect for families or groups of friends.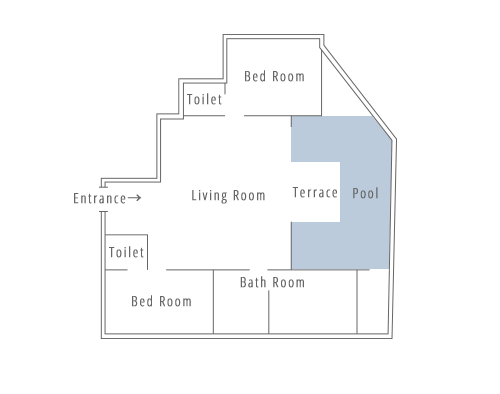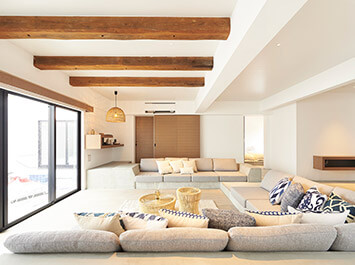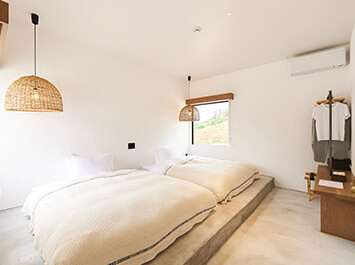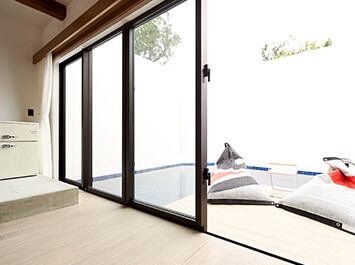 Private Pool
All guest rooms are equipped with a private pool. When not enjoying the beautiful ocean of Miyako-jima, you can dive into your own pool in complete privacy and without a care in the world.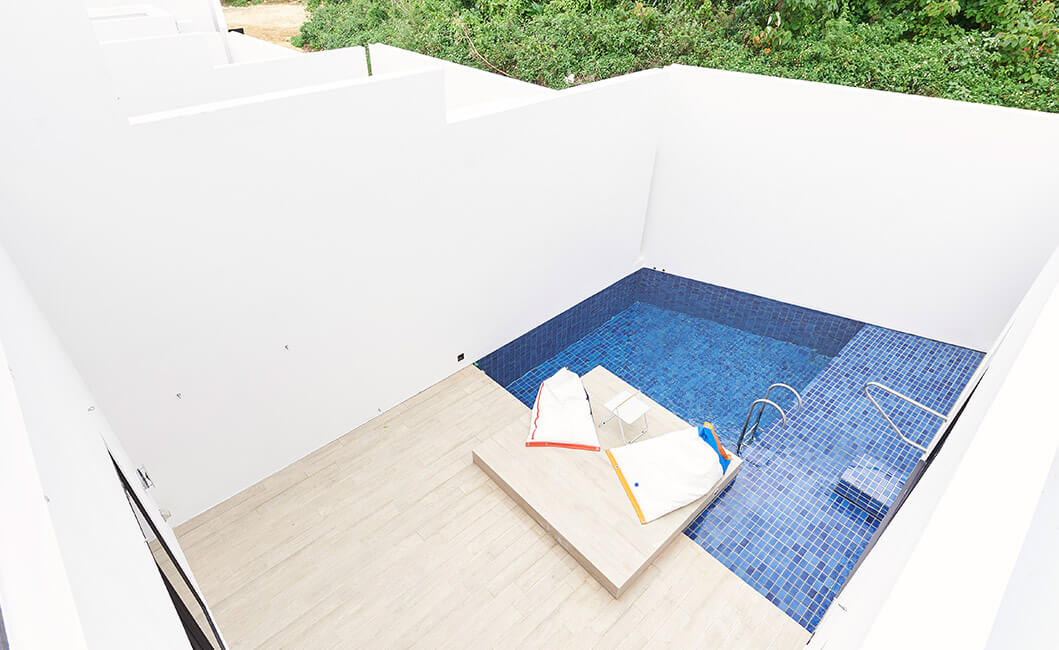 Restaurant
For dinner, guests can enjoy a full-course French meal, prepared with select ingredients sourced domestically and locally from Miyako-jima, served in an exciting and lively teppanyaki-grill-style atmosphere. Indulge in fresh, high-quality recommendations prepared with ingredients of the day. You are certain to be satisfied with the delicious flavors of a once-in-a-lifetime feast, at this out-of-the-ordinary resort. Enjoy sincere and thoughtful hospitality, with deliciously refined French flavors that only a restaurant operated by the GAMIN Group of Tokyo can offer.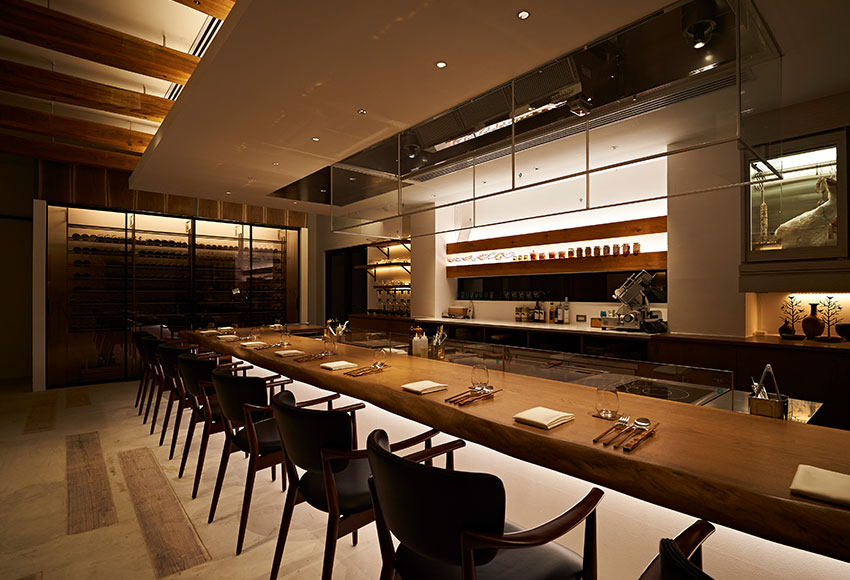 Bar Floor
8:30pm-0:00am
(L.O.11:30pm)
After dinner, we have a space prepared for you to relax and enjoy a fine after-dinner refreshment. We have counter seats, as well as terrace seating available, where you can savor the cool Miyako-jima breeze. Let yourself be completely taken away from the hustle and bustle of everyday life, and listen to the soothing sounds of the waves. Enjoy the after-dark part of your southern tropical island experience.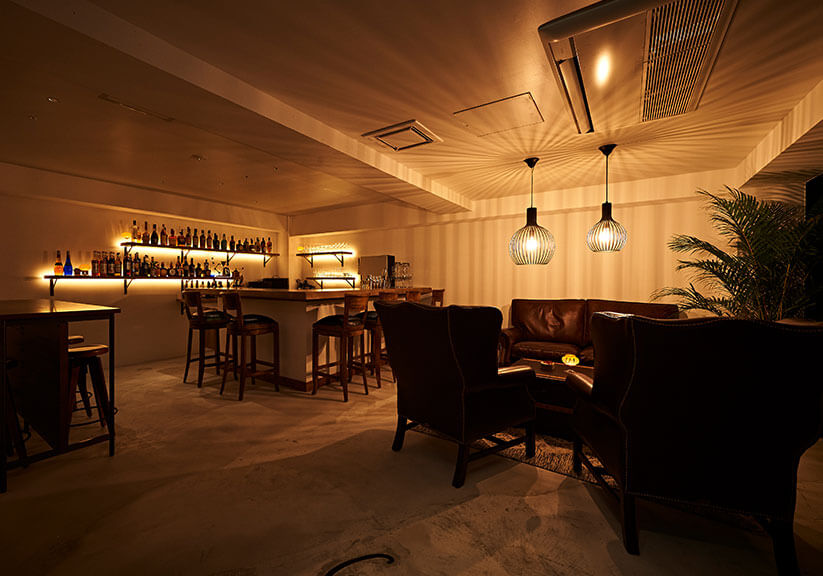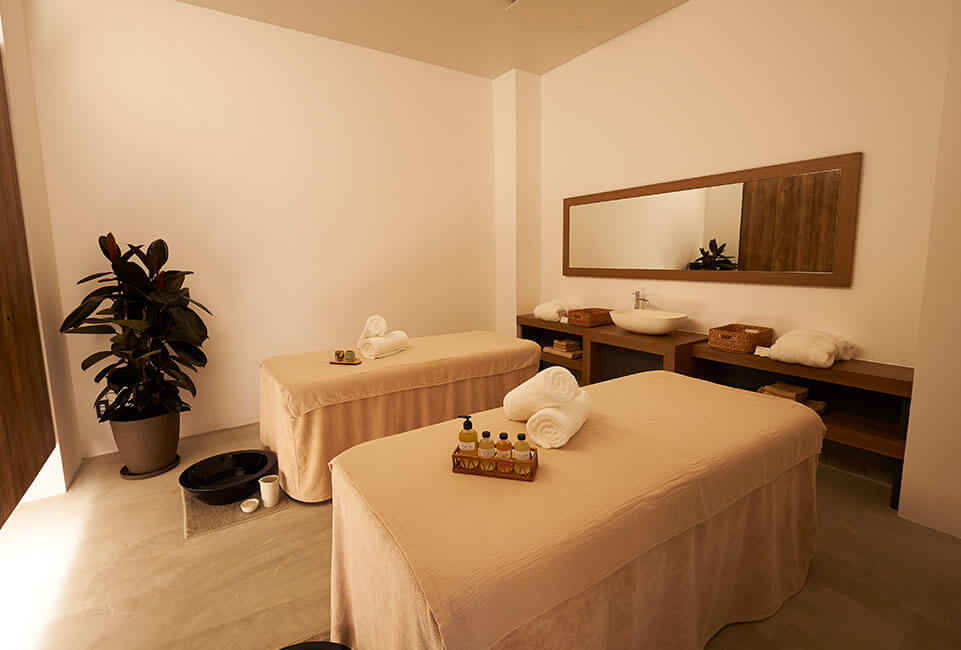 Spa
Our villa is equipped with a spa to make your stay even more comfortable and pleasant. From the oils in our treatment processes, to the products we provide, we are dedicated to the use of natural ingredients. Enjoy a relaxing experience so luxurious and blissful that it is beyond words.
Info
Grand Bleu Gamin
Address

1064-1 Nikadori Hirara, Miyako-jima, Okinawa
906-0008
Access

Approximately 15 minutes by car from Miyako Airport
Guest rooms

5 guest rooms
Superior suite: 2 rooms/63.94㎡ (1 bedroom/private pool)
Deluxe suite: 2rooms/93.14㎡ (1 bedroom/private pool)
Premium suite: 1room/107.29㎡ (2 bedrooms/private pool)
*¥65,000 and up (superior suite room rate for 2 persons, includes dinner, excluding taxes and service fees)
Facilities overview

[Restaurant]
10 counter seats/2 private rooms (6 persons/4 persons)/3 terrace tables (12 persons total)
[Bar]
20 seats
[Spa]
1 treatment room (2 beds)
For inquiries

tel.

0980-74-2511
>>

Contact Form